My niece and her husband and daughter were to come at Thanksgiving but decided that at 8 months pregnant, a four hour drive might not be the best thing to do. Hayden was born the following Friday, December 1. He weighed in at 10.4 pounds and it was a vaginal birth. To be honest, when I heard 10.4 pounds, I thought that she is a much better woman than I and he must be a bruiser. But, in fact, he is just a super cuddler and 10.4 pounds is still very little when you are holding him in your arms. AHHHH, it was heavenly. Mom, on the other hand, had some serious hematomas followed by hemorrhaging, had to have two relatively minor surgeries the day after his birth to stop the bleeding plus four pints of blood and they both enjoyed a five day stay in the hospital with the doctor telling her that the next one will be a C-section.
Anyway, for 2007, this is my most favorite Christmas decoration! By the way, as soon as this pic was snapped, his outfit and my sweater both ended up in the wash . . . . and his formula is one of those wonderful ones that permanently stains everything it comes in contact with!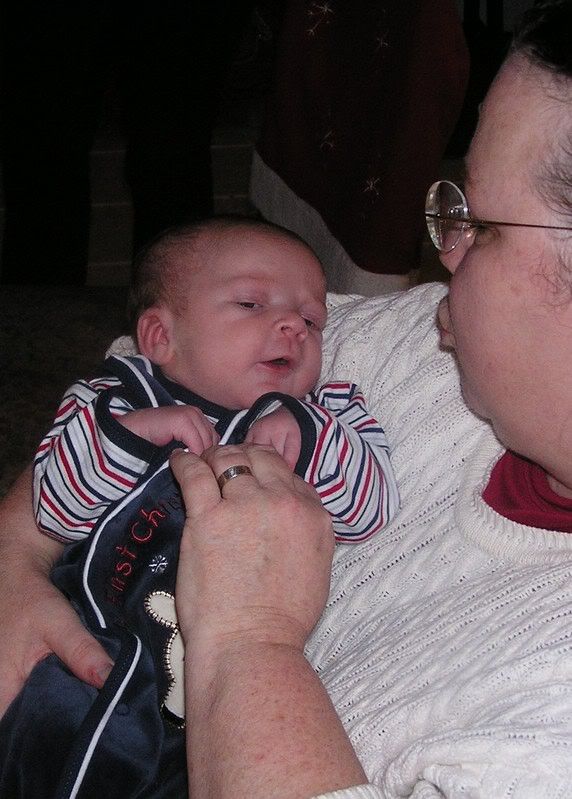 I disliked the sweater anyway, it never fit right and the arms are way too long and I was way to lazy to frog and redo.